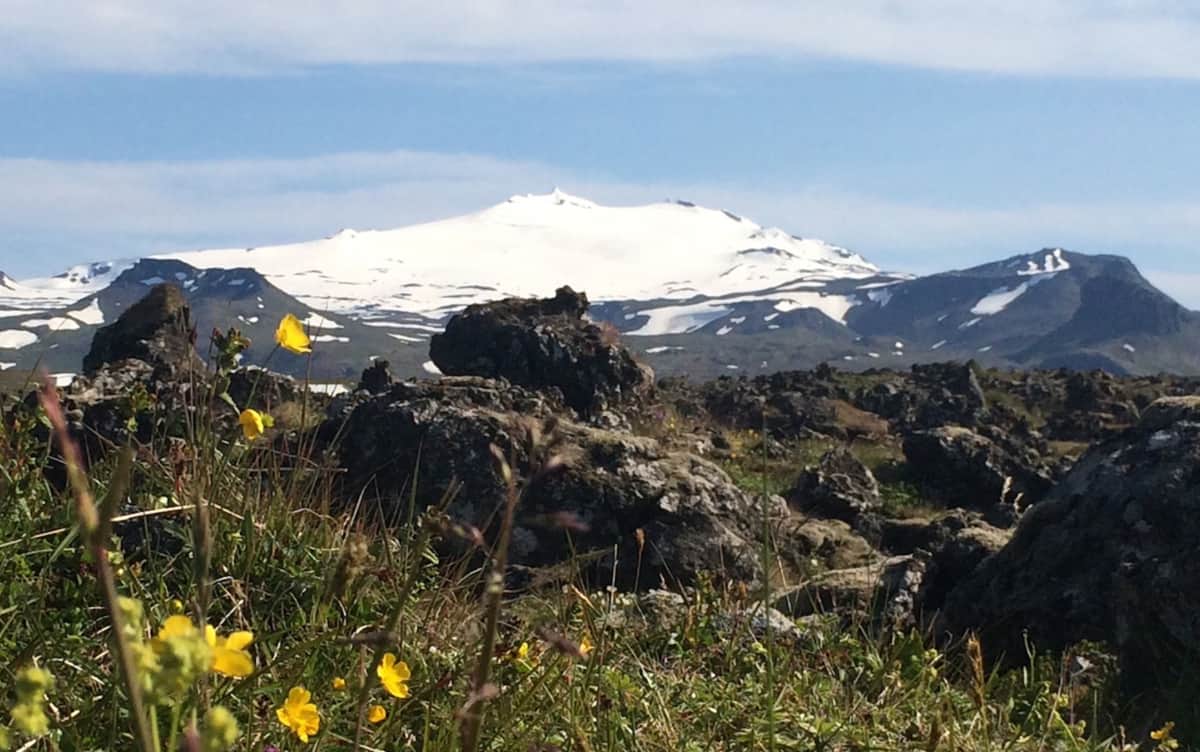 Snæfellsnes Peninsula and Vatnshellir Lava Cave
Included
Pickup at your accommodation

Snæfellsnes Peninsula Sightseeing

Transport

Professional Local Guide

Entrance for Vatnshellir Lava Cave

Free WiFi

Drop-off at your accommodation
What to bring
Warm and water proof clothes
A camera is always good to have
Lunch can be bought on the way
Snæfellsjökull Glacier and Volcano
Djúpalónssandur Black Beach
Kirkjufell Mountain
Kirkjufell Waterfall
Snæfellsnes: A Trip Rich With Geology And History
Snæfellsnes Peninsula is known for its dramatic landscapes and is sometimes referred as Iceland in a nutshell, for its variety of nature attractions. The peninsula comprises a world of diversity, volcanic craters, lava fields, black beaches, waterfalls, glacier, lush meadows, colourful mountains and friendly villages. At the end of the 90 km long peninsula is the mystical and magical Snæfellsjökull Glacier and Volcano. The Glacier sits atop of a stratovolcano that took centre stage in Jules Verne novel and movie, Journey to the Centre of the Earth, and its crater was the entrance into earth. Snæfellsnes Peninsula, is rich in culture and history with many of the Icelandic sagas taking place there. So while visiting the natural wonders of Snæfellsnes Peninsula you will be learning the history and tales of Iceland.
8:30 AM – REYKJAVÍK
Pick up between 8:00 – 8:30 AM, at your accommodation. Wait for the Travelling Iceland vehicle.
ARNARSTAPI VILLAGE
Arnarstapi is a small fishing village on the southern side of Snæfellsnes Peninsula. It is known for its sculpture of Bárðr, who was a half human and half ogre. His mother was human, but his father was half giant and half troll. Bárðr, his wife and his daughters emigrated to Iceland and came to shore in Djúpalón. Bárðr and his family lived in the area and the legend says that after losing his daughter, he gave away his land and vanished into the Snæfellsjökull ice cap. He became the "guardian spirit" of the Snæfellsnes area and was worshipped by the locals in many years to come.
HELLNAR VILLAGE
Hellnar is a small and ancient fishing villages. The beach in Hellnar has amazing rock formations.
VATNSHELLIR LAVA CAVE
Vatnshellir lava cave is a lava tube in an 8000-year lava field. The lava was formed in an eruption in a nearby crater Purkhólar. During the eruption the lava flowed downhill, cooling down on the surface while still running below, ultimately draining out and leaving a beautiful lava tube, which is now accessible.
DJÚPALÓNSSANDUR BLACK BEACH
Djúpalónssandur black beach is a bay at the tip of Snæfellsnes Peninsula. The black small pebbles on the beach have been smoothed by the ocean waves, and amongst them are scattered rusty parts of a wreckage of a ship that stranded in the area in 1948. In the old days, fishermen used to test their strength by lifting heavy rocks, that still lie there. Heaviest is Fullsterkur ("full strength"), weighing 154 kg, next is Hálfsterkur ("half strength") weighing 100 kg, hálfdrættingur ("weakling") weighing 54 kg and Amlóði ("Useless") 23 kg. They were traditionally used to qualify men for work on fishing boats, with the Hálfdrættingur being the minimum weight a man would have to lift onto a ledge at hip-height to qualify.
LÓNDRANGAR CLIFFS
Lóndrangar cliffs are rock peaks that have formed by erosion of the surrounding material. Lóndrangar is volcanic plugs of basalt, at 75 and 61 meters in height.
KIRKJUFELL AND KIRKJUFELL WATERFALL
Kirkjufell and Kirkjufell waterfall. Kirkjufell, located on the northern side of the Snæfellsnes Peninsula, is one of the most picturesque mountains in Iceland, and with the Kirkjufell waterfall in the vicinity makes a wonderful nature stop.  Kirkjufell was chosen to be one of the filming locations for Game of Thrones, featuring as the "Arrowhead Mountain".
8:30 PM – REYKJAVÍK
We arrive in Reykjavík.